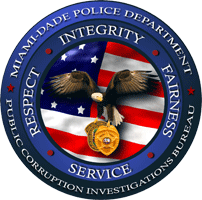 It seems like a day doesn't go by without some mention of the Miami Dade County Police departments Public Corruption Investigations Bureau in the news. A couple of months back Mayor Gimenez scales back the bureau by taking ten detectives, three sergeants, one lieutenant, three civilian analysts and an administrator and transferring them to other units within the department. From the Herald article...
"I think the mayor sends a strong message he doesn't have an appetite to fight public corruption," said Police Benevolent Association President John Rivera. "It's an embarrassment, especially in a corruption-rich community like Miami-Dade."
What made this cut in staff over at the bureau even more suspicious was the fact that it happened while members of the bureau were conducting a major absentee ballot fraud investigation, again, from the Herald article...
The probe into ballot brokering, spurred by tips from a private eye, netted the arrest of one woman, Deisy Cabrera, who was seen entering Gimenez's Hialeah campaign office. He denied wrongdoing.
Miami-Dade public corruption detectives, in an unrelated absentee ballot brokering case, arrested another man, Sergio Robaina, for alleged voter fraud. He and Cabrera are pending trial.
But the union leader and police sources told El Nuevo Herald that key evidence was concealed for months in the electoral fraud case that exploded a year ago with the arrest of ballot collector Deisy Pentón de Cabrera a few blocks away from Giménez's campaign office in Hialeah.
They also questioned why no warrant was executed for a raid on the campaign office, even though Cabrera was seen entering and leaving the place carrying absentee ballots in her hands.
Officers with the Miami-Dade police public corruption unit collected more than $58,000 in overtime pay during an investigation that led to the arrest of four employees for stealing $3,000 in entry fees at a county park in Hialeah.
"This case has raised concerns," Miami-Dade Police Director J.D. Patterson, told el Nuevo Herald on Tuesday. "And I say concerns because there was a significant investment of resources for such a small case."
Patterson, who took over as chief last year, said in August he had concerns about the management of the public corruption unit. At the time, the police hierarchy was strongly criticized for the unit's downsizing.
I for one don't buy all this bullshit and think this is nothing more than a smear campaign against the folks over at the Public Corruption Unit. While they criticize all the O.T. hours spent on this case, why not mention the hundreds if not thousands of hours that are spent on cases that never end with a single arrest? This latest story in the Herald is simply the mayor and his staff trying to justify the downsizing of the bureau to the public while glossing over the fact that they reassigned a number of cops that were getting a little to close for comfort with their absentee ballot investigations...